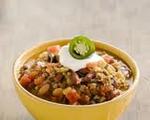 Prep: 25 min
Cook Time: 1 hr 30 min
Total: 1 hr 55 min
Serving: 8
Viva Pork and Beans is filled with flavorful sausage and pork. Hot pepper sauce gives it a bit of a kick.
Ingredients
1 pound sweet Italian sausage links, cut in small chunks
2 garlic cloves, minced
2 pounds pork stew meat, cut in 1 inch chunks
3 green peppers, chopped
2 tomatoes, chopped
2 onions, chopped
1 tablespoon salt
3/4 teaspoon ground cumin
1/8 teaspoon pepper
2, 17 ounce cans chickpeas, drained
2, 6 ounce cans tomato paste
generous dash of hot pepper sauce
Directions
In Dutch oven over medium heat, brown sausage chunks and garlic; increase heat to medium-high; add pork and continue cooking until all meat is well browned.
Stir in 2 cups water, green peppers, tomatoes, onions, salt, cumin and pepper; cover and simmer over low heat one hour or until pork is tender. Stir in chickpeas, tomato paste and hot pepper sauce; cook 15 minutes.