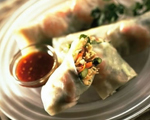 Prep: 45 min
Cook Time: –
Total: 45 min
Serving: 8 Servings
Light and fresh, these spring rolls are a far cry from the fried takeout version. Packed with shrimp, carrot, onions, cilantro and mint, these tasty rolls are a perfect summer dish.
Ingredients
1 cup thinly sliced Bibb lettuce
1/2 cup bean sprouts
1/2 cup cooked bean threads
1/2 cup shredded carrot
2 chopped green onions
1/4 cup thinly sliced cilantro
1/4 cup chopped mint
6 ounces cooked peeled and deveined shrimp, coarsely chopped
8 (8-inch) round sheets rice paper
Directions
In a large bowl, combine the lettuce, bean sprouts, bean threads, carrot, green onions, cilantro, mint and shrimp. Toss well to mix.
Place about 1 inch of hot water in a shallow dish.
Put 1 sheet of rice paper in the hot water and soak for 30 seconds. Carefully remove and place on a clean, flat surface.
Spoon 1/3 cup of the shrimp mixture on half of the rice sheet, leaving approximately a 1/2-inch border. Bring the sides of the sheet over the filling and roll up like a jellyroll, pressing the seam lightly to seal.
Place the spring roll, seam side down on a serving dish and repeat with the remaining rice sheets.
Serve spring rolls with Sweet and Sour Dipping Sauce.