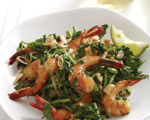 Prep: 10 min
Cook Time: 5 min
Total: 15 min
Serving: 4 Servings
Fish sauce and peanuts are classic ingredients used in Vietnamese cooking. They add flavor and texture to dishes including this simple shrimp and watercress stir-fry. Serve hot over steamed rice.
Ingredients
1/2 cup chicken stock or low-sodium broth
1/4 cup Asian fish sauce
2 tablespoons sugar
1 teaspoon cornstarch
5 tablespoons vegetable oil
1-1/4 pounds shelled and deveined medium shrimp
3 shallots, thinly sliced
3 tablespoons minced fresh ginger
1 6-ounce bunch watercress, large stems discarded and leaves coarsely chopped
1 tablespoon fresh lime juice
Freshly ground pepper
1/3 cup salted peanuts, chopped
Directions
Place the stock, fish sauce, sugar and cornstarch into a small bowl and whisk together until thoroughly blended.
Place 3 tablespoons of the oil into a large sauté pan over high heat. Once the oil begins to shimmer, add the shallots and the ginger and sauté for 1 minute.
Slowly pour in the fish sauce mixture, whisking to combine and bring the mixture to a boil. Add the watercress, shrimp, lime juice and a few grinds of fresh pepper. Cook for 1 minute and then transfer the mixture into bowls. Garnish with the peanuts and serve immediately.