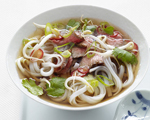 Prep: 20 min
Cook Time: 32 min
Total: 52 min
Serving: 4 Servings
The word "Pho" is the Vietnamese name for a classic rice noodle soup that is traditionally made with beef broth but can also be substituted with chicken or shrimp.
Ingredients
6 cups beef broth
1 (1/4-inch thick) slice ginger
2 whole star anise
1 cinnamon stick
1/2 pound piece boneless beef sirloin, cut across the grain into thin slices
3 ounces dried flat rice noodles
1/4 cup Asian fish sauce
1/8 teaspoon freshly ground black pepper
1 cup fresh bean sprouts, rinsed and drained
1/8 cup minced scallions
1/4 cup fresh cilantro sprigs, washed and finely chopped
1 small thin fresh red or green Asian chilie, sliced thinly
1/2 cup fresh basil leaves
Directions
In a large soup pan, bring the broth, ginger, star anise, and cinnamon to a rolling boil and then reduce the heat to medium-low and simmer for 15 minutes.
Soak the noodles in a large bowl covered with hot water for 15 minutes.
Meanwhile, bring a medium-sized pan of salted, bowling water to boil. Drain noodles and place in pan of hot water and cook, stirring, for 40 seconds. Immediately drain and set noodles aside.
Pour the broth through a strainer and into a large saucepan. Pour in the fish sauce and sprinkle with salt and pepper. Mix in the beef and the sprouts and cook for 1 minute.
Divide the noodles into 4 serving bowls and then ladle the soup over the noodles. Sprinkle the scallions, cilantro, chilies and basil onto the soup and serve.