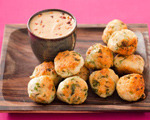 Prep: 15 min
Cook Time: 15 min
Total: 30 min
Serving: Makes about 12 meatballs
These Vietnamese meatballs can be made with either ground chicken or turkey. Serve them as an enjoyable Asian-themed appetizer accompanied by a spicy Sriracha peanut sauce for dipping.
Ingredients
1 pound ground chicken or turkey
2 tablespoons minced fresh ginger
1/3 cup minced scallions
1/3 cup chopped cilantro
1 teaspoon fish sauce
1 tablespoon cornstarch
Salt and freshly ground pepper
1 tablespoon peanut oil
1/2 cup smooth peanut butter
2-3 teaspoons hot water
1 teaspoon soy sauce
1 teaspoon toasted sesame oil
Sriracha sauce to taste
Directions
Place the ground chicken, ginger, scallions, cilantro, fish sauce, cornstarch and a few pinches of salt and fresh pepper into a bowl and mix well until completely blended. With clean and slightly wet hands, shape the mixture into small balls and then set aside.
Put the peanut butter into a bowl and then slowly pour in the hot water, whisking vigorously to combine. Stir in the soy sauce and the sesame oil, and then add the Sriracha sauce to taste.
Place the oil into a large sauté pan over medium heat. Once it begins to shimmer, add the prepared meatballs and cook for 15 minutes until browned on all sides. Serve the meatballs immediately, accompanied by the spicy peanut butter sauce.