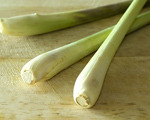 Prep: 5 min
Cook Time: –
Total: 5 min
Serving: Marinade for 1-1/2 pounds seafood, poultry or beef
Using fresh lemongrass, and not something that comes out of a jar, gives this marinade intense flavor and aroma. Enjoy it with seafood, poultry and beef.
Ingredients
1/4 cup Lemongrass, chopped (4-6 stalks)
6 Strips lemon zest
3 Garlic cloves, minced
3 Shallots, minced
2 Thai chilies, minced
2 teaspoons Brown sugar
3 tablespoons Fish sauce
3 tablespoons Fresh Lime juice
1 teaspoon Vietnamese hot sauce
Directions
Trim the top 2/3 off of each lemongrass stalk and then remove the exterior leaves and the roots. Cut the lemongrass into thin slices and then place in a blender.
Add the garlic, shallots, chilies, and brown sugar to the blender, process until finely chopped and then add in the fish sauce, lime juice, and hot sauce. Blend well to combine.
Pour the marinade over the protein of your choice and marinate for at least 1 hour.