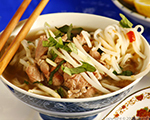 Prep: 10 min
Cook Time: 15 min
Total: 25 min
Serving: 4 Servings
A classic Vietnamese dish made with bok choy and rice noodles, serve this soup with some Asian chile sauce for those who want some extra spice to their meal.
Ingredients
2 teaspoons canola oil
1 pound beef flank steak, very thinly sliced against the grain
4 cups chopped bok choy (1 small head)
4 cups reduced-sodium chicken broth
1 cup water
4 ounces wide rice noodles
2 teaspoons reduced-sodium soy sauce
1-1/2 cups mung bean sprouts to garnish
Directions
In a large soup pot, heat the oil over medium-high heat and then add the beef and cook for 2-1/2 minutes, stirring frequently.
Remove the beef from the pan and add the bok choy. Cook for 2 minutes and then stir in the broth and water and bring mixture to a rolling boil.
Once boiling, add the noodles and the soy sauce and reduce heat to medium-low. Simmer the soup for 5 minutes and then return the beef to the pot and cook for an additional 2 minutes.
Ladle the soup into bowls and garnish with the mung bean sprouts.