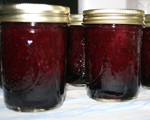 Prep: 2 hr 10 min
Cook Time: 30 min
Total: 2 hr 40 min
Serving: Makes about 3 cups
Vidalia onions are sweeter than regular onions and have far less of a 'bite.' In this recipe they add mellow flavor and creamy texture to the relish.
Ingredients
1 large Vidalia onion, cut into thin wedges
1 tablespoon butter
1/4 cup raisins
1/4 cup dry red wine
Dash salt
3/4 cup packed brown sugar
4 inches stick cinnamon
1 12-ounce package cranberries (3 cups)
1 cup water
Directions
Put the butter into a large sauté pan and place over medium heat.
Once the butter has melted, add the onion and sauté for 5 minutes, stirring occasionally, then add the wine and the salt.
Cook the mixture for 1 minute and then set the pan aside.
In a large saucepan, place the sugar, cinnamon and 1 cup of water over high heat and bring to a boil.
Once the mixture begins to boil reduce heat to medium-low and simmer for 10 minutes.
Stir in the cranberries and continue to cook for about 10 minutes, or until cranberries pop.
Remove and discard the cinnamon and then add the onion mixture. Stir to combine and then transfer the mixture to a bowl, cover and refrigerate for at least 2 hours before serving.