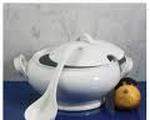 Prep: 30 min
Cook Time: 30 min
Total: 1 hr
Serving: 10
Vibrant Vegetable Soup is easy to prepare and naturally low in sodium.
Ingredients
4 cups red potatoes, unpeeled and cubed
1 1/2 cups carrots, chopped
1 cup celery, chopped
1/2 cup string beans
1 green bell pepper, coarsely chopped
1 large onion, peeled and chopped
1, 10 ounce bag spinach
1 cup sweet peas
1/4 cup butter
1 1/2 teaspoons salt
1 teaspoon black pepper
1 1/2 teaspoons dried sage
1 tablespoon dried basil
1/4 cup fresh parsley, chopped
6 cups water
Directions
Place vegetables in a Dutch oven. Add water; bring to a boil. Add butter, salt, pepper and herbs. Simmer until vegetables are tender, about 30 minutes.