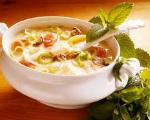 Prep: 10 min
Cook Time: 1 hr 15 min
Total: 1 hr 25 min
Serving: 6-8 servings
Southern soup recipe packed with vegetables.
Ingredients
1 1/2 pounds ham hocks
8 cups water
1 teaspoon salt
1/2 teaspoon pepper
2 tablespoons bacon drippings
1/4 cup chopped onion
1/2 cup chopped celery
4 pods sweet pepper, chopped
2 pods hot pepper, chopped
1 1/2 cups corn
1 1/2 cups lima beans
1 1/2 cups field peas
2 cups tomatoes, stewed
1/2 cup tomato sauce
6 pods okra, chopped
3 medium potatoes, diced
1 cup beef stock
Directions
Bring the water to a boil in a large pot. Boil the ham hock with the salt and pepper until tender, about 40 minutes.
In a small skillet, brown the onion, celery and peppers in the bacon drippings. Mix in with the ham hocks.
Once the ham begins to separate from the bone, mix in the corn, beans, peas, tomatoes and tomato sauce. Cook until the corn is tender, stirring occasionally.
Add in the okra, potatoes and beef stock and simmer for 20 minutes, or until all vegetables are tender.