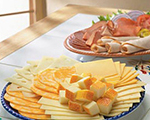 Prep: 20 min
Cook Time: –
Total: 20 min
Serving: 12 Servings
This versatile platter offers a wide range of cheeses and meats to satisfy each and every one of your guests' personal preferences.
Ingredients
2 pounds sliced white American cheese
1/4 pound sliced Swiss cheese
1/4 pound sliced Jack cheese rounds, cut in half
1/2 pound (3/4-inch thick) sliced jalapeno cheese, cubed
1/2 pound (3/4-inch thick) sliced deli Muenster, cubed
1 pound sliced deli turkey breast
1 pound sliced deli honey ham
1/4 pound sliced salami
1 small red onion, thinly sliced
3 tomatoes, cut into thin slices
Lettuce leaves
Sweet and dill pickles, sliced
Directions
Place the various cheeses on a platter, arranged into groups.
Roll the turkey and place on another serving platter, along with the salami slices. Fold the ham into quarters and arrange on the platter, and then garnish with the onions, tomatoes, lettuce and pickles.