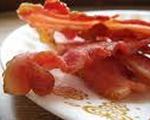 Prep: 15 min
Cook Time: 1 hr 20 min
Total: 1 hr 35 min
Serving: 4
Venison Roast is flavored with bacon and onion.
Ingredients
slab of venison, 2 inch thick
1/4 teaspoon pepper
1 tablespoon celery, chopped
1/2 cup flour
1 tablespoon onion, chopped
4 teaspoons bacon fat
1/2 teaspoon salt
2 cups water, boiling
Directions
Lay venison on cutting board and pound flour into it. Melt fat in a large frying pan and brown venison.
Add all the seasonings and 1/2 cup water. Cover and let simmer for 55 minutes. Add the remaining water and simmer until tender.