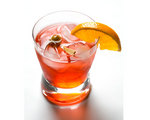 Prep: –
Cook Time: –
Total: –
Serving: Makes 1
Stretch out summertime with this sultry sparkling sipper made with top quality Prosecco. D.O.C.G. Prosecco makes the perfect hip, and reasonably priced, sip for lunch, brunch or celebrations.
The fine print: only Proseccos bearing the D.O.C.G. designation are authentic Prosecco wines, produced under strict quality controls in the 12,000-acre Conegliano-Valdobbiadene region outside Venice. Paris Hilton aside, who needs canned, imitation Prosecco anyway, when the real thing runs around $15 a bottle?
For mixologist, Sean Dal Colletto, at Santi Restaurant in Santa Rosa, pomegranate juice and Prosecco make for the most refreshing of cocktails. His best seller: Hanger One Mandarin Blossom Vodka spiked with elderflower liqueur and pomegranate juice, and finished with Prosecco.
This classically chic cocktail, the Venetian Spritz, also comes from Sean and is considered the preferred apéritif in Venice.
Ingredients
1-ounce Aperol (or Campari)
2-ounces Prosecco (D.O.C.G.)
2-ounce seltzer water
Orange slice
Directions
Pour all ingredients into an old fashion, chimney, or wine glass filled half-way with ice. Stir and garnish with orange.