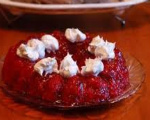 Prep: 45 min
Cook Time: –
Total: 45 min
Serving: 8-10 servings
A colorful refreshing Holiday salad
Ingredients
1 (3 ounce) package lemon gelatin
2 cups boiling water
1 pound marshmallows
1 medium can crushed pineapple, drained
1 (3 ounce) package cream cheese
1 cup whipping cream
1 cup mayonnaise
1 (3 ounce) package cherry gelatin
2 cups hot water
Directions
Stir the lemon gelatin into the boiling water until dissolved. Stir in marshmallows until dissolved.
Combine the pineapple, cream cheese, whipping cream and mayonnaise. Fold in with the lemon gelatin. Pour into mold and chill.
Stir the cherry gelatin into the hot water until dissolved. Cool before pouring over the lemon gelatin.