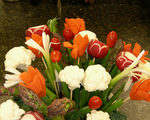 Prep: 20 min
Cook Time: 15 min
Total: 35 min
Serving: 6-8 People
Even the pickiest eater will have a hard time resisting these beautiful and delicious vegetable skewers.
Ingredients
1 red bell pepper
1 green bell pepper
1 yellow bell pepper
1 orange bell pepper
1/2 cup cherry tomatoes
1/2 cup cauliflower florets
1/2 cup plain Greek yogurt
2 tablespoons ranch dressing
20 to 30 skewers
Directions
Wash and seed the bell peppers and wash the tomatoes and cauliflower florets.
Cut the bell peppers into a variety of shapes including flowers, circles, stars, triangles and more. If you have small cookie cutters, use these to help you create the shapes.
Layer the shapes onto the skewers to form flowers. Skewer the cauliflower and tomatoes separately to add "fill" to your bouquet arrangement.
Mix the Greek yogurt and ranch dressing in a bowl.
Serve the skewers in a clean vase with the Greek yogurt mix as a dipping sauce.