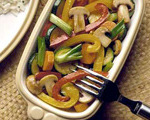 Prep: 10 min
Cook Time: 5 min
Total: 15 min
Serving: 1 Serving
Whenever you are in a pinch for time, or you just can't think of something appealing to make for dinner, try making this simple stir-fry which is chock-full of nutrients and flavor.
Ingredients
1 tablespoon cooking oil
1 small carrot, sliced into 1/4-inch pieces (1/3 cup)
1/2 small zucchini, sliced (1/3 cup)
1/2 sweet red, green, or yellow sweet pepper, cut into 1/4-inch strips (1/2 cup)
3 fresh mushrooms, sliced
1 green onion, bias-sliced into 1-inch pieces
2 teaspoons oyster sauce or soy sauce
Dash garlic powder
Directions
Place the oil into a large sauté pan over medium-high heat. Once it begins to shimmer, add the carrot and stir-fry for 2 minutes, before adding the zucchini and cooking for an additional 1-1/2 minutes.
Stir in the red pepper, mushrooms, and green onion, and continue to stir-fry the vegetables for 1 minute. Add the oyster sauce and garlic powder, and then toss the mixture to coat; serve immediately.