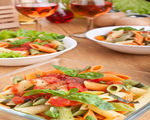 Prep: 30 min
Cook Time: 6 hr
Total: 6 hr 30 min
Serving: 8
Serve with a green salad and french bread with herb butter.
Ingredients
1 small pkg of spaghetti
1 package spaghetti sauce mix
1 8 oz can tomato sauce
1 cup water
2 cups zucchini, sliced
1 eggplant, peeled and sliced thinly, and quartered
1 green bell pepper, chopped
3 tomatoes, cut into wedges
1/2 tsp. salt
1/2 cup Parmesan cheese
Directions
Mix dry spaghetti sauce mix with tomato sauce and water in a crock pot.
Add zucchini, eggplant, green bell pepper, tomatoes, and salt to spaghetti sauce.
Stir until blended well.
Cover and cook on low for 4 to 6 hours or until.
When sauce is almost ready cook spaghetti according to package directions.
Drain.
Place cook spaghetti into a large serving bowl.
Pour sauce over the spaghetti.
Spinkle with the cheese and serve.