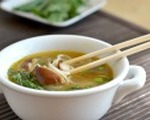 Prep: 15 min
Cook Time: 1 hr
Total: 1 hr 15 min
Serving: Serves about 4
Unless you live in a big, bustling city with a wide range of cultures, you might not know exactly what pho is. Pronounced fa, this traditional Vietnamese noodle soup is made up of a homemade broth, fresh chives, onions and rice noodles. Many varieties of pho contain meat -- however, it's not necessary. If you're looking to create your own variety of this hearty and delicious soup, check out this vegetarian recipe!
Ingredients
1 large onion, peeled and chopped
1 cup shiitake mushrooms, sliced
2 inches fresh ginger root, peeled and sliced
2 garlic cloves, minced
4 cups homemade vegetable stock
1 tablespoon low-sodium soy sauce
1 teaspoon crushed red pepper
2 carrots, sliced
1/2 pound rice noodles
FOR THE TOPPINGS
5 chives, sliced
1/2 cup bean sprouts
1/4 cup fresh cilantro
1 teaspoon chili powder
1/2 onion, sliced
1 tablespoon butter
Directions
To make the broth, heat 1 tablespoon of butter, onions, garlic, carrots and mushrooms in a large pot over medium-high heat until fragrant. Add in vegetable stock, crushed red pepper, ginger, salt and pepper. Bring to a boil, then reduce heat and simmer for 30 minutes.
Remove from heat and let cool slightly. Strain through a mesh strainer. Discard everything but the mushrooms, put those back into the soup.
Place noodles in warm water and let soften for about 20 minutes. Once softened, rinse and add to the stock. Add in sliced onions and chili powder. Serve with other toppings, like chives, sprouts and cilantro.