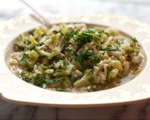 Prep: 10 min
Cook Time: 50 min
Total: 1 hr
Serving: Serves 4
Everyone likes the creamy and comforting taste of risotto. Try this vegetarian version made with broccoli and cheddar cheese.
Ingredients
2 tablespoons olive oil
1 cup fresh broccoli florets and stems
2 tablespoons unsalted butter
1 small shallot, finely chopped
2 cloves garlic, finely chopped
1/4 cup melon-seed-shaped pasta
3/4 cup Arborio rice
2-1/4 cup vegetable broth, warm
1-1/2 sea salt
1 tablespoons garlic powder
1/3 cup aged yellow cheddar, shredded
2 tablespoons parmesan cheese
1 teaspoon black peppercorns
1 tablespoons truffle butter
1 tablespoons curly parsley, finely chopped to garnish
Directions
Thoroughly wash the broccoli and separate the florets from the stems.
Bring a large pan of water to boil with a sprinkle of salt. Blanch the broccoli by placing it into the boiling water for 3 minutes and then rinsing with cold water. Drain and coarsely chop.
In a large sauté pan, heat olive oil on medium-high heat and sauté the garlic until fragrant; remove from pan and set aside. Add the shallots and sauté for two minutes. Set aside with the garlic and sprinkle with 1/2 teaspoon of the salt.
Place 3 tablespoons butter in the sauté pan and then add the pasta and the rice; mix to coat. Slowly pour in 1 cup of the vegetable broth, stirring constantly.
When mixture begins to boil, lower heat and add garlic powder and cheddar cheese. Simmer the mixture, covered, for 20 minutes, yet keep checking liquid levels and adding 1/4 cup of stock when liquid is absorbed. Add the broccoli stems and salt. Continue simmering for 15 more minutes.
Sprinkle in the Parmesan cheese and truffle butter and adjust the seasoning with salt and pepper. Garnish with parsley.