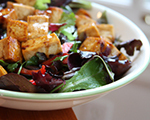 Prep: 12 min
Cook Time: 15 min
Total: 27 min
Serving: 4 Servings
This vegetarian Asian-inspired dish uses tofu instead of chicken or pork, and is seasoned with a sweet and savory honey and ginger vinaigrette.
Ingredients
3 tablespoons canola oil
2 tablespoons rice vinegar
1 tablespoon honey
2 teaspoons soy sauce
1 teaspoon toasted sesame oil
1 teaspoon minced fresh ginger
1/2 teaspoon salt
1 14-ounce package extra-firm, water-packed tofu, rinsed, patted dry and cut into 1-inch cubes
8 cups mixed salad greens
2 medium carrots, peeled, halved lengthwise and sliced
1 large cucumber, chopped
Directions
In a small bowl, mix together the canola oil, vinegar, honey, soy sauce, sesame oil, ginger and salt with a whisk until smooth and creamy.
Place 2 teaspoons of the honey mixture in a medium-sized skillet over medium-high heat, and add the tofu. Cook for a total of 15 minutes, flipping every 3 minutes to ensure even cooking.
Remove the pan from the heat and add 2 tablespoons of the honey mixture to the tofu. Stir to coat.
Place the greens, carrots and cucumber in a large bowl and add the honey mixture. Toss to coat and then top the salad with the tofu. Serve immediately.