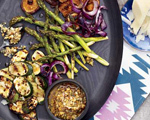 Prep: 15 min
Cook Time: 15 min
Total: 30 min
Serving: 4 Servings
A great appetizer or accompaniment to grilled meat, poultry and fish, enjoy this side dish medley of grilled zucchini, shiitake mushrooms, asparagus and onion drizzled with toasted walnut vinaigrette.
Ingredients
2 zucchini, sliced diagonally 1/3 inch thick
1/2 pound shiitake mushrooms, stemmed
1/2 pound thick asparagus, peeled
1 red onion, sliced 1/3 inch thick
1/2 cup extra-virgin olive oil, plus more for brushing
Sea salt and freshly ground black pepper
1 cup walnuts
1 small shallot, very finely chopped
1 teaspoon thyme leaves
1 tablespoon freshly squeezed lemon juice
1/2 teaspoon finely grated lemon zest
Directions
Prepare a grill on high heat.
Thoroughly brush the zucchini, mushrooms, asparagus and onion with olive oil and then sprinkle with some salt and pepper. Place the vegetables on the grill and cook, turning occasionally, for 15 minutes.
In the meantime, wrap the walnuts in foil and place on the grill to toast for 10 minutes.
Transfer the toasted nuts to a food processor along with the shallot, thyme, lemon juice, lemon zest and the 1/2 cup of olive oil. Process the mixture until somewhat smooth and then season with salt and pepper.
Serve the grilled vegetables on a serving platter drizzled with the toasted walnut sauce.