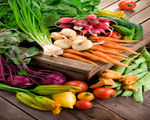 Prep: 20 min
Cook Time: 15 min
Total: 35 min
Serving: 4
For the vegetarian, colorful crisp tender vegetables and toothsome chunks of golden tofu make for a filling and tasty meal. Omit the tofu and serve as a vegetable side dish accompanying cooked lean meats, fish or poultry. Brought to you from The Fitness Kitchen by Shelly Sinton.
Ingredients
24 ounces firm tofu
2 teaspoons vegetable oil
6 large shallots, chopped (about ½ cup)
3 garlic cloves, minced
1 tablespoon minced gingerroot
Pinch crushed red pepper flakes
3 carrots, thinly sliced on a diagonal (about 1 cup)
½ pound green beans, ends trimmed, cut into 1 inch pieces (2 cups)
1 (6 ounce) red bell pepper, halved, sliced thin (about 1 cup)
1 small bok choy, sliced thin crosswise (about 1 cup)
¼ pound bean sprouts (about 1 cup)
3 tablespoons toasted white or black sesame seeds
Sauce:
¼ cup water
2 tablespoons rice wine vinegar
1 tablespoon honey
1 tablespoon tamari or soy sauce
Pinch cayenne
1 teaspoon cornstarch dissolved in 1 tablespoon water
Directions
Place tofu on a plate lined with paper towels.
Cover with a few more paper towels and compress with a cutting board or another plate for 30 minutes. This will press out excess liquid, condensing tofu and making it easier to cut and hold its shape while cooking.
Slice into 1 inch cubes.
Set aside.
Meanwhile, prepare sauce.
In a small saucepan over medium heat, combine water, rice wine vinegar, honey, and tamari until mixture comes to a simmer.
Stir in dissolved cornstarch and continue to simmer, stirring occasionally, until thickened, about 2 minutes.
Set aside.
Heat 1 teaspoon oil in wok over medium high heat. Add shallots and stir fry until soft, about 2 minutes.
Stir in garlic, ginger, and crushed red pepper flakes, cooking until fragrant, about 1 minute.
Add cubes of tofu and stir-fry until golden brown on all sides, about 4 minutes.
Remove tofu with a slotted spoon and set aside.
Heat 1 teaspoon oil in wok over medium high heat. Add carrots and green beans, stir-frying for 2 to 3 minutes.
Toss in bell pepper and stir-fry about 2 minutes. Add bok choy and stir-fry until slightly wilted, about 2 minutes.
Throw in bean sprouts, stir-frying for 1 minute.
Add tofu, tossing to combine and pour in thickened sauce, stirring to coat.
Remove from heat and serve immediately with toasted whole wheat orzo or buckwheat noodles.
Garnish with a sprinkle of sesame seeds.