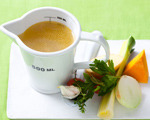 Prep: 5 min
Cook Time: 2 hr 10 min
Total: 2 hr 15 min
Serving: 8 servings
Vegetable stock is actually quite simple to make and can be prepared relatively quickly with the right kitchen tools. Use a pressure cooker and cut your cooking time down by more than 1 hour.
Ingredients
2 tablespoons olive oil
2 onions, quartered
4 carrots in 2-inch sections
3 stalks celery, with leaves, in 2-inch sections
5 cloves garlic, halved
4 cups vegetable mix such as: potato, sweet potato, leeks, shallots, summer squash, winter squash, parsnips, apple, mushrooms, spinach, chard, fennel
4 quarts water
4 tomatoes
2 bay leaves
1/2 teaspoon whole peppercorns
1 bunch parsley
Additional herbs of your choice
Directions
Place the olive oil into a large stock pot over medium-high heat. Once it begins to shimmer, add the onions, carrots, celery and garlic and sauté for 5 minutes.
Stir in the remaining vegetables and then sauté for another 5 minutes.
Add the water, tomatoes, bay leaves, peppercorns, parsley, and any additional herbs, and then bring the mixture to a boil. Once boiling, reduce the heat to medium-low and simmer the mixture for 2 hours.
Strain the mixture and use immediately or store in the freezer for up to 3 months.