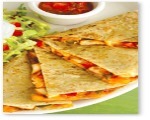 Prep: 15 min
Cook Time: 10 min
Total: 25 min
Serving: Serves 4 people
When a simple and healthy meal is what you need, Vegetable Quesadillas are the right choice.
Ingredients
1 tablespoon olive oil
1 cup of fresh mushrooms, thinly sliced
1 medium onion, cut into thin wedges
1 red bell pepper, cut into thin strips
2 cloves of garlic, minced
1/4 teaspoon of salt
1/4 teaspoon of pepper
4 cups of fresh spinach leaves, cut into stips
1 tablespoon of fresh cilantro, chopped
4, 10-inch flour or wheat tortillas
4 ounces of shredded mozzarella or cheddar cheese (about 1 cup)
1/2 cup of salsa
2 avocados, mashed (or use pre-packaged guacamole, about 1/2 cup)
1/2 cup of light sour cream
Directions
Heat the oil in a 12-inch skillet over medium-high heat until hot. Add the mushrooms, onion, bell pepper, garlic and salt and pepper. Cook, stirring, for about 3 minutes.
Reduce the heat to low and add the spinach. Cook for another 1-2 minutes (until the spinach is wilted). Remove from the heat and stir in the chopped cilantro.
Put half the vegetable mixture on half of each tortilla. Sprinkle each with about 1/4 cup of the cheese and fold the tortillas over.
Put the filled tortillas on a baking sheet. Broil for about 2 minutes and turn each tortilla over and broil another 1-2 minutes until golden brown and the cheese starts to melt.
Sever the quesadillas with the salsa, avocado and sour cream.