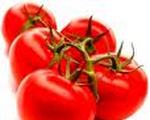 Prep: 25 min
Cook Time: 35 min
Total: 1 hr
Serving: 8
Vegetable Pizza with Pesto is a nice change from the traditional tomato based pizza sauce.
Ingredients
1, 11 ounce package refrigerated French bread loaf
Pesto: 4 tablespoons Parmesan cheese, grated
2 1/2 tablespoons fresh basil leaves, chopped
2 tablespoons olive oil
1 1/2 tablespoons garlic, finely minced
Topping: 2 1/2 cups Italian 4 cheese blend, shredded
4 tomatoes, sliced thin
1 zucchini, sliced thin
1 small onion, sliced thin
1/2 pound mushrooms, sliced thin
freshly ground pepper to taste
Directions
Preheat oven to 400 degrees F. Roll out bread loaf into a 14 by 9 inch rectangle. Place on a baking sheet.
Make Pesto: Combine ingredients in a small bowl. Spread over bread loaf. Sprinkle 1/2 cup Italian cheese blend over top.
Layer tomatoes, zucchini, onions and mushrooms. Sprinkle with black pepper. Cover with remaining cheese.
Bake in center of oven 35 minutes, until golden brown.