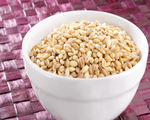 Prep: 20 min
Cook Time: 9 hr
Total: 9 hr 20 min
Serving: 10
Barley absorbs a lot of water and you may need to add more water throughout the cooking process.
Ingredients
3 pounds lean stew meat, trimmed and cut into cubes
1 can cut green beans, drained
1 can whole kernel corn, drained
2 cans stewed tomatoes
1 1/2 cups pearl barley
2 cups fresh spinach
1/2 teaspoon salt
1/2 teaspoon pepper
Additional water as needed
Directions
Brown meat in a skillet.
Drain.
Add meat to crock pot.
Add 4 cups of water, the barley, tomatoes, green beans and corn.
Cover and cook on low setting about 6-7 hours.
Stir and add more water if necessary (it usually is necessary to add 1-2 more cups throughout cooking). Add salt and pepper.
Stir again.
Cover and cook for another 2-3 hours on LOW setting.