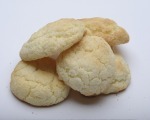 Prep: 10 min
Cook Time: 7 min
Total: 17 min
Serving: Makes 18 cookies
Vegan Sugar Cookies are a delicious treat. Your guests will never know what they're (not) missing!
Ingredients
1-1/2 cups flour
1/2 cup sugar
1/2 teaspoon baking soda
1/2 teaspoon salt
1/2 cup vegetable oil
1 tablespoon vanilla
1 tablespoon maple syrup
1/4 cup applesauce + 1/2 teaspoon baking powder
4 tablespoons of sugar (to coat)
4 tablespoons of cinnamon (to coat)
Directions
In a large bowl, mix the dry ingredients together and sift. In a medium-sized bowl mix the wet ingredients together. Stir the wet ingredients into the flour mixture. Form the dough into a large ball. The dough should stick together well, but if it doesn't, add a bit of water to mix in with it.
Preheat your oven to 375 degrees F. Combine the sugar and the cinnamon in a shallow bowl. Form the dough into small, 2-inch-sized balls. Roll the small balls in the sugar-cinnamon mixture.
Place the balls onto an ungreased cookie sheet and flatten them out just a little. Bake for about 7 minute.