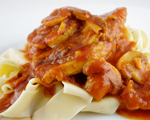 Prep: 20 min
Cook Time: 55 min
Total: 1 hr 15 min
Serving: Serves 6
When Italian immigrants first started opening restaurants in the U.S., veal scaloppini became one of the most popular dishes on the menu. Serve it over wide egg noodles and you'll see why this dish continues to be a hit.
Ingredients
2 eggs, beaten
2 cups dry breadcrumbs
Salt and freshly ground pepper
6 veal scallops, about 5 ounces each
4 ounces butter or olive oil
6 ripe tomatoes, peeled, seeded, chopped
3 tablespoons fresh basil
2 tablespoons olive oil
Directions
Place the beaten eggs and breadcrumbs in two separate pie plates. Add salt and pepper to the breadcrumbs and mix well.
Heat a large sauté pan on medium-high, and melt the butter until bubbling.
Dip each scallop into the beaten eggs and then dredge in the breadcrumbs to coat, pushing down so crumbs adhere.
Fry each veal scallop until golden, turning once, about 4 or 5 minutes. Remove from pan and drain on paper towels.
Add the mushrooms and garlic to the pan and sauté for a few minutes, stirring often, until mushrooms are soft and slightly brown,
In a large blow, combine the tomatoes with the basil and olive oil. Add in the mushrooms and stir to mix. Spoon over warm veal and serve immediately.