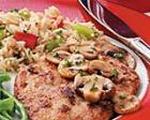 Prep: 10 min
Cook Time: 15 min
Total: 25 min
Serving: 2 Servings
This veal scallopini recipe is easy to make and goes well with pasta.
Ingredients
2 (4 ounce) veal cutlets
2 tbsp flour
Salt and pepper to taste
3 tbsp butter, divided
1 tbsp olive oil
1/4 pound thinly sliced fresh mushrooms
1/2 cup beef broth
1/4 cup dry sherry
2 tsp fresh parsley, minced
Directions
Flatten cutlets to 1/8 inch thickness. In a ziploc bag, combine the flour, salt and pepper. Add veal, seal bag and shake to coat evenly.
In a skillet, heat 1 tablespoon each of butter and oil. Add veal and cook over medium heat for about 1 minute on each side or until juices run clear. Remove from heat and keep warm.
Add mushrooms to skillet and cook for 2-3 minutes until tender while stirring constantly. Spread mushrooms over veal.
Add broth and sherry to skillet and stir in parsley and remaining butter. Continue for about 2 minutes until sauce thickens. Pour over veal and mushrooms.