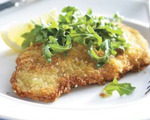 Prep: 15 min
Cook Time: 10 min
Total: 25 min
Serving: 4 Servings
This main dish meal is a great idea for entertaining. Serve the ground-almond encrusted veal medallions with a side of bok choy in crème fraiche, and a bottle of Shiraz or Ladoix.
Ingredients
4 veal medallions
Sea salt and freshly ground black pepper, to taste
2 eggs, beaten
4 tablespoons butter
1-1/4 cup almonds
1 cup finely grated Parmesan cheese
Directions
Place the almonds into a food processor and process until finely ground. Transfer to a bowl, add the Parmesan cheese and mix well to combine.
Place the butter into a large frying pan and set over medium heat.
Sprinkle each veal medallion with salt and pepper, dip into the beaten egg and then dredge in the almond and Parmesan mixture to coat. Placed the coated medallions in the pan and cook for 15 minutes, flipping once halfway through the cooking time. Serve immediately.