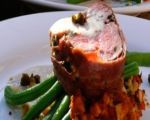 Prep: 30 min
Cook Time: 45 min
Total: 1 hr 15 min
Serving: Serves 4 people
Veal Chops with Prosciutto and Sun Dried Tomatoes is a hearty and sophisticated dish for dinner this winter.
Ingredients
8 veal chops, trimmed of fat
2 handfuls of flour, seasoned with salt and pepper
2 ounces butter
1 garlic clove, crushed
6 slices prosciutto, chopped
2 tablespoons of fresh rosemary, chopped
8 ounces dry white wine
16 sun-dried tomatoes, chopped
4 tablespoons fresh basil, chopped
Directions
Flour the veal chops. In a large frying pan, melt the butter over high heat, cooking the garlic, prosciutto and rosemary for a few minutes. Add the veal and brown it on both sides.
Stir the wine into the mixture and bring to a boil. Reduce the heat and simmer for about 30 minutes.
Remove the veal and prosciutto, set aside and keep warm. Over high heat, stir in the sun-dried tomatoes and cook until the sauces reduces by half. Stir in the basil and turn for a moment. Spoon the mixture over the veal chops and top with prosciutto.