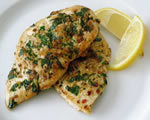 Prep: 5 min
Cook Time: 40 min
Total: 45 min
Serving: 6
This is an easy three-ingredient recipe that yields sweet and spicy pieces of chicken bursting with juices.
Ingredients
6 skinless chicken breast halves, ribs attached, washed, patted dry
Marinade:
1 cup spicy barbecue sauce
1 (20 ounce) bottle vanilla-flavored cola (Vanilla Coke or Pepsi)
Directions
Marinade:
Combine the marinade ingredients in a large bowl:
Place chicken breasts in bowl, cover and refrigerate for at least 2 hours.
Preheat broiler and adjust oven rack to middle position.
Spray a broiler pan (or a rack placed in a large baking pan) with nonstick cooking spray or wipe with olive oil.
Place broiler pan in oven for 5 minutes to heat. Carefully take pan out of oven and remove chicken from bowl, discarding the marinade.
Place chicken breasts on pan, ribs-side down.
Broil for 25 to 30 minutes, or until juices run clear when breast is slit with a knife.
Remove from oven and cover with foil for 10 minutes to let the juices redistribute.