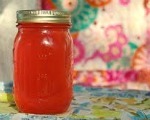 Prep: 10 min
Cook Time: 30 min
Total: 40 min
Serving: 1 quart
A light and refreshing rhubarb elixir. Great by itself or used to mix other drinks.
Ingredients
1 1/2 pounds fresh rhubarb
3/4 cup sugar
Juice of 1/2 lime
1 drop red food coloring (optional)
1 split vanilla bean
Directions
Chop the rhubarb into 1/2-inch slices. Arrange in a 3-quart pot. Add enough water to just cover the fruit.
Bring to a boil over high heat. Cover, reduce to a simmer for 20 minutes, stirring occasionally. Strain using a fine strainer or jelly bag into a large bowl. Once the dripping has stopped and the pulp is thick and pasty discard the pulp.
Add the sugar to the juice. Chill for at least 4 hours. Add the lime juice and food coloring.