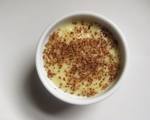 Prep: 5 min
Cook Time: 20 min
Total: 25 min
Serving: 4 Servings
Instead of making an instant pudding from an envelope, try this simple recipe that gets you creamy vanilla pudding from scratch in about 20 minutes.
Ingredients
2-1/2 cups half-and-half or whole milk
2/3 cup sugar
Pinch of salt
1 vanilla bean or 1 teaspoon vanilla extract
3 tablespoons cornstarch
2 tablespoons unsalted butter, softened (optional)
1/2 ounce bittersweet chocolate (optional)
Directions
In a medium saucepan, place the 2 cups of half-and-half or milk, sugar and salt over medium-low heat. If using a vanilla bean, split the bean in half and remove seeds. Drop seeds and vanilla pod into the mixture and cook until liquid begins to steam.
Mix the remaining half-and-half or milk with the cornstarch. Use a wire whisk in order to remove any lumps. Remove vanilla pod from your saucepan and slowly add cornstarch mixture, stirring continuously.
After about 5 minutes, mixture will thicken and begin to boil. Immediately reduce heat to low, and continuing stirring for an additional 5 minutes. Mix in butter and vanilla extract, if vanilla bean was not used.
Empty mixture into a 1-quart dish or 4 pudding bowls. Refrigerate until chilled. Garnish with shaved chocolate if desired.