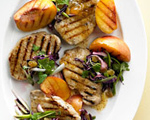 Prep: 6 hr 20 min
Cook Time: 9 min
Total: 6 hr 29 min
Serving: 4 Servings
These pork chops are first marinated in a vanilla brine mixture for at least 6 hours before being grilled and served with caramelized peaches. A wonderful summer meal to enjoy with friends and family.
Ingredients
4 nonenhanced boneless pork loin chops, cut 3/4 to 1 inch thick (about 1 lb.)
1 cup water
1 tablespoon sea salt
1 tablespoon sugar
2 teaspoons vanilla
2 tablespoons packed brown sugar
2 large peaches halved and pitted
1 tablespoon olive oil
2 tablespoons peach preserves
1 tablespoon horseradish mustard
1/2 teaspoon vanilla
Directions
Place the water, 1 tablespoon sea salt, sugar and 2 teaspoons vanilla into a bowl and stir to combine.
Put the pork chops into a large Ziploc bag and then pour in the vanilla mixture. Marinate the chops for at least 6 hours, turning the bag occasionally to ensure even distribution of the marinade.
Prepare the grill on medium heat.
Coat the cut sides of the peaches with the brown sugar and then drizzle with the olive oil. Set aside.
In a small bowl, combine the preserves, mustard, and 1/2 teaspoon vanilla and whisk to combine.
Remove the chops from the brine, discard the brine and coat with the preserve mixture.
Grill the chops for 9 minutes, turning once halfway through the grilling time, and grill the peaches for 6 minutes, also turning once halfway through the grilling time.
Serve the pork chops with the grilled peaches and a side of cole slaw.