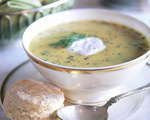 Prep: 25 min
Cook Time: –
Total: 25 min
Serving: 8
My kids ask for this on a weekly basis and I have to admit, it is truly one of the best things I have ever made, even as a personal chef!!
Ingredients
1 pound thick bacon, chopped
2-3 stalks celery, diced
1 onion, chopped
4 cloves garlic, minced
8 med. potatoes, peeled & cubed
4 cups chicken stock,or enough to cover potatoes
3 T butter
1/4 cup all purpose flour
1 cup half and half
1 cup milk
1 teas. dried tarragon
1 T chopped, fresh cilantro
Salt and pepper to taste
Directions
In dutch oven or large pot, cook the bacon over medium heat until very crispy. Remove bacon from pan, and set aside. Drain off all but 1/4 cup of the bacon grease.
In the bacon grease remaining in the pan, saute the celery and onion until onion begins to turn clear. Add the garlic and continue cooking for 1 to 2 minutes. Add the raw, cubed potatoes and toss to coat.
Saute for 3 to 4 minutes. Return the bacon to the pan and add enough chicken stock to just cover the potatoes.Cover and simmer until potatoes are tender.
In seperate pan, melt the butter over medium heat. Whisk in the flour. Stirring this constantly for 1 to 2 minutes.
Whisk in half and half, along with milk, adding tarragon and half of the cilantro. Bring this cream mixture to a boil and stir constantly until thickened.
With a potato masher or a hand mixer, cream half of the potato mixture. Stir the cream mixture into the potato mixture slowly, stirring while you add.
Season with salt, pepper, and remaining cilantro just before serving. Serve with a side salad and dinner rolls for a complete meal that will satisfy even the finicky!