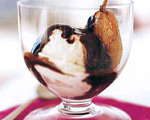 Prep: 15 min
Cook Time: 18 min
Total: 33 min
Serving: 8 servings
A delicious way to end a wonderful meal, you cannot go wrong serving these bittersweet chocolate and pear sundaes made with pear liqueur and vanilla ice cream.
Ingredients
8 ounces bittersweet chocolate, coarsely chopped
1/3 cup water
1/4 cup granulated sugar
1/4 cup pear liqueur or pear nectar
4 small pears (1 pound total), peeled
3 tablespoons butter
2 tablespoons granulated sugar
1 quart premium vanilla ice cream
Directions
Place the chocolate, water, and 1/4 cup sugar into a saucepan over low heat and stir constantly until the chocolate has melted. Add the pear liqueur, stir to blend and then remove the mixture from the heat and set aside.
Place the butter into a small sauté pan over medium heat to melt. Add the pears and cook for 12 minutes, turning once. Sprinkle the 2 tablespoons of sugar into the pan and stir until a glaze is formed.
Scoop some ice cream into dessert bowls and then top with the pears and the chocolate sauce; serve immediately.