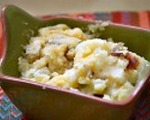 Prep: 10 min
Cook Time: 1 hr 30 min
Total: 1 hr 40 min
Serving: 6 People
Although these potatoes look quite similar to regular mashed potatoes, the flavor difference is like night and day. These mashed twice baked potatoes have the incredible roasted flavor you get when you bake them and are incredible when mashed with butter, sour cream and cheddar cheese. Plus, because they are baked a second time after they've been mashed, they get an amazing crispy crust around the edges. Serve these with a hearty steak or on their own for a truly outstanding potato experience. You may never go back to plain mashed again!
Ingredients
6 russet potatoes
1 tablespoon olive oil
1 teaspoon sea salt
1/2 cup butter
1/2 cup sour cream
1/2 cup milk
1 tablespoon sea salt
1/2 tablespoon ground black pepper
1 cup cheddar cheese
1 teaspoon parsley
Directions
Preheat oven to 350 degrees F. Grease a baking sheet with oil. Place potatoes on the baking sheet and slice an opening down the middle. Sprinkle with first teaspoon of salt and bake for one hour or until potatoes are soft.
Working while potatoes are still hot, cut into quarters and place in a mixing bowl. (Remove from skins if you'd prefer no skin mash.) Add milk, sour cream, butter, sea salt, pepper and parsley. Using a handheld mixer, mash until creamy.
Add 3/4 cup cheddar and mix until fully combined. Pour mash into a greased baking dish. Sprinkle with remaining cheese and additional parsley. Bake for 30 minutes or until cheese is melted and edges are crispy.