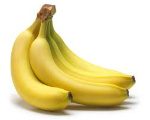 Prep: –
Cook Time: 5 min
Total: 5 min
Serving: Makes 2
Bananas rolled in cream cheese and seeds. Stand them up on a plate and let your kids admire their little birdie.
Ingredients
1/4 cup cream cheese, softened
1 banana, peeled and cut in half
1/2 cup sunflower or sesame seeds or crushed cracker crumbs
6 raisins
Directions
Spread the cream cheese over the banana halves, except the cut end. Roll in the seeds.
Use 2 raisins to create eyes on either side. Flatten another raisin and cut in half. Insert both halves between the eyes to create a beak. Stand up on the plate to serve.