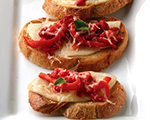 Prep: 25 min
Cook Time: 5 min
Total: 30 min
Serving: 60 appetizers
Crostinis, or "little toasts," are thin slices of toasted bread brushed with olive oil or topped with a savory garnish.
Ingredients
1/2 cup butterr, softened
2 large cloves fresh garlic, finely chopped
1 (1-pound) loaf French baguette bread, cut into 1/4-inch slices
8 (1-ounce) slices Provolone Cheese, cut into eighths
1 (7.25-ounce) jar roasted red peppers, drained, cut into thin strips
2/3 cup freshly shredded Parmesan or Romano cheese
Directions
Preheat the oven to 350 degrees.
Place the butter and the garlic in a small bowl and mix to combine.
Butter one side of each slice of bread and then place on a baking sheet, buttered side down. Top each slice of bread with 1 slice of cheese and 1 piece of red pepper, and then sprinkle with some of the Parmesan cheese.
Place the crostinis in the oven for 5 minutes to melt the cheese and then serve immediately.