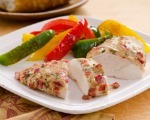 Prep: 10 min
Cook Time: 20 min
Total: 30 min
Serving: 6 servings
Also terrific with Hellmann's or Best Foods Light Mayonnaise.
Nutrition Information per serving:
Calories 240, Calories From Fat 70, Saturated Fat 1g, Trans Fat 0g, Total Fat 8g, Cholesterol 90mg, Sodium 270mg, Total Carbohydrate 2g, Sugars 0g, Dietary Fiber 0g, Protein 35g, Vitamin A 2%, Vitamin C 4%, Calcium 2%, Iron 8%
Ingredients
1/3 cup Hellmann's® or Best Foods® Real Mayonnaise
3 tablespoons finely chopped roasted red pepper
1 teaspoon garlic powder
1/2 teaspoon dried Italian seasoning
1 teaspoon balsamic vinegar
6 boneless, skinless chicken breast halves (about 2 pounds)
Directions
Preheat oven to 425 degrees Fahrenheit.
Combine all ingredients except chicken in medium bowl. Arrange chicken on baking sheet, then evenly top with mayonnaise mixture.
Bake 20 minutes or until chicken is thoroughly cooked.