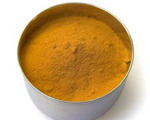 Prep: 5 min
Cook Time: –
Total: 5 min
Serving: Marinade for 8 pieces of chicken
Be extremely careful when using turmeric as it can leave a yellowish stain on everything from plastic bowls to countertops and clothing. Coat this marinade onto chicken at least 30 minutes prior to cooking.
Ingredients
1 tablespoon ground cumin seeds
1/2 tablespoon paprika
1 tablespoon ground turmeric
1/2 teaspoon cayenne pepper
1 teaspoon fresh black pepper
1-1/2 teaspoons salt
rounded teaspoon of bottled garlic
6 tablespoons freshly squeezed lemon juice
Directions
Place all of the ingredients into a non-reactive shallow glass bowl and whisk vigorously until thoroughly blended.
Add the chicken to the bowl and toss a few times until completely coated with the marinade. Set the chicken aside to marinate at room temperature for 30 minutes prior to cooking.