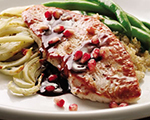 Prep: 10 min
Cook Time: 38 min
Total: 48 min
Serving: 4 Servings
The pomegranate juice creates a sweet and tart sauce for the roasted turkey cutlets and fennel in this dish.
Ingredients
4 medium fennel bulbs, cored and thickly sliced
5 teaspoons canola oil, divided
1/2 teaspoon chopped fresh thyme, plus 1 sprig
1 teaspoon sea salt, divided
3/4 teaspoon freshly ground pepper, divided
4 turkey cutlets, 1/4 inch thick (1 pound)
1 cup pomegranate juice
1/4 cup reduced-sodium chicken broth or water
1 teaspoon cornstarch
Directions
Preheat the oven to 450 degrees.
In a large bowl, add the fennel with the thyme, 1/4 teaspoon of salt, 1/4 teaspoon of pepper and 3 teaspoons of the oil, and toss to coat.
Transfer the fennel to a baking pan and place in the oven for 25 minutes.
In the meantime, heat the remaining 2 tablespoons of oil in a large frying pan over medium-high heat. Thoroughly sprinkle the turkey with the remaining salt and pepper and then place in the frying pan. Cook for 3 minutes per side and then place on a plate.
Pour the pomegranate juice into the pan, scraping up any bits on the bottom of the pan. Bring the mixture to a boil, stirring frequently for 8 minutes. Remove the thyme and discard.
In a small bowl, whisk together the cornstarch and the broth until smooth. Slowly add to the pomegranate mixture, whisking to combine, and then cook for about 20 seconds.
Place turkey and any juices back into the pan and continue to cook for 1 minute until heated through. Serve immediately with the roasted fennel.