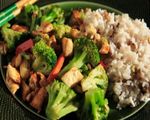 Prep: 10 min
Cook Time: 7 min
Total: 17 min
Serving: 4
A great way to use left over turkey.
Ingredients
1 teaspoon ground black pepper
1 teaspoon paprika
1 teaspoon garlic powder
1 pound cooked turkey breast cut into 1/2 inch strips
2 teaspoons olive oil
1 cup sliced yellow summer squash
1 cup green and red peppers cubed
1 cup snow peas, ends and strings removed
1/2 teaspoon dried Italian seasoning
Directions
Mix black pepper, paprika and garlic powder in a pie plate
Roll the turkey strips in the mixture.
In a wok or large skillet, heat 1 teaspoon of the oil over medium heat.
Add the turkey and stir for 1 to 2 minutes.
Set Turkey aside.
Heat the remaining 1 teaspoon of oil in the wok or skillet.
Add the squash, pepprs and peas.
Stir fry for 4 minutes until vegetables are tender.
Sprinkle with the Italian seasoning.
Reduce the heat to medium.
Stir in the turkey and cook for 2 minutes.