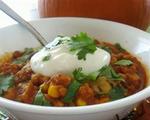 Prep: 10 min
Cook Time: 20 min
Total: 30 min
Serving: 6 Servings
Are you looking for a chili recipe that isn't just average? This delicious pumpkin chili is exactly what you need to whip up tonight!
Ingredients
2 cups pumpkin
1 pound ground turkey
1 cup chopped onion
1/2 cup chopped green bell pepper
1/2 cup chopped yellow bell pepper
1 clove garlic, minced
1 (14.5 ounce) can diced tomatoes
1 tablespoon vegetable oil
1 1/2 tablespoons chili powder
1/4 teaspoon ground black pepper
1/4 teaspoon red pepper flakes
1 dash salt
1/2 cup sour cream
1/2 cup shredded Cheddar cheese
Directions
Heat the oil in a large skillet over medium heat, and saute the onion, peppers, and garlic until golden. Stir in the turkey and cook until evenly browned.
Drain and mix in tomatoes and pumpkin. Season with chili powder, pepper, red pepper flakes and salt. Reduce heat to low, cover, and simmer 20 minutes.
Serve topped with cheddar cheese and a scoop of sour cream.