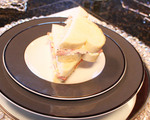 Prep: 5 min
Cook Time: –
Total: 5 min
Serving: 1 person
Shaved a few calories off your traditional deli sandwich with this easy turkey pastrami sandwich recipe.
Ingredients
1 large slice rye bread, cut in half
2 slices OSCAR MAYER Deli Fresh Shaved Turkey Pastrami
5 thin slices apple
2 Tbsp. drained CLAUSSEN Sauerkraut
1 KRAFT 2% Milk Singles
Directions
Fill bread halves with remaining ingredients.
Nutrition Information Per Serving: 170 calories, 5g total fat, 2g saturated fat, 0g trans fat, 20mg cholesterol, 780mg sodium, 22g carbohydrate, 3g dietary fiber, 5g sugars, 10g protein, 6%DV vitamin A, 10%DV vitamin C, 25%DV calcium, 8%DV iron. Exchange: 1-1/2 Starch, 1 Meat (L) Dietary Exchanges (or Exchange Calculations) based on Choose Your Foods: Exchange Lists for Diabetes © 2008 by the American Diabetes Association and the American Dietetic Association.