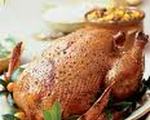 Prep: 25 min
Cook Time: 45 min
Total: 1 hr 10 min
Serving: 4
Use leftover turkey from Thanksgiving to make Turkey Olive Polenta.
Ingredients
3 tablespoons butter
4 tablespoons flour
1/2 teaspoon marjoram
1/2 teaspoon tarragon
1 1/3 cups chicken broth
1/3 cup very dry sherry
1 1/2 cups cooked turkey, cubed
1 cup ripe black olives, pitted and halved
2/3 cup tomato, cubed
2/3 cup frozen peas
1/3 cup Monterey Jack cheese, shredded
Polenta Topping: 1/2 cup yellow cornmeal
2 cups milk
1/4 teaspoon salt
1/2 teaspoon rosemary, crumbled
2 tablespoons butter
Directions
Melt butter in a saucepan over medium high heat. Stir in flour, marjoram and tarragon and cook until smooth and bubbly. Add turkey and sherry and whisk until smooth. Cook, stirring continuously, over medium high heat until it thickens and comes to a boil.
Remove from heat and stir in olives, tomatoes and peas. Pour into a greased 1 1/2 quart shallow baking dish.
Make Polenta Topping: Combine milk, cornmeal and salt in saucepan. Cook over medium heat, stir constantly, until mixture comes to a boil. Reduce heat and boil gently 1 minute. Remove from heat and stir in butter and rosemary.
Pour Polenta Topping over baking dish and sprinkle with cheese. Bake at 350 degrees F for 30 minutes or until hot. Garnish with additional black olives if desired.