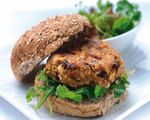 Prep: 5 min
Cook Time: 15 min
Total: 20 min
Serving: 4
Earthy mushrooms lend this burger a meatier texture and a richer taste.
Ingredients
1 ounce dried porcini mushrooms
1 ¼ pounds 7% fat ground turkey
½ cup reduced fat ricotta cheese
¼ teaspoon salt
½ teaspoon black pepper
Directions
Place mushrooms and 1 cup of water in a small microwave-safe bowl.
Loosely cover and microwave on HIGH for 1 ½ minutes. Set aside and let steep for 10 minutes.
Heat grill to a medium-high to high temperature. Drain mushrooms and squeeze out excess liquid (reserve liquid to enhance soups or sauces).
Finely chop mushrooms and place mushroom in a large mixing bowl with remaining ingredients and mix well.
Divide into turkey mixture into 4 equal portions (5 ounces each).
Toss one portion from one hand to the other to form a ball.
Flatten into a ¾ inch thick patty.
Repeat with remaining 3 portions.
Oil grill rack with vegetable oil and grill patties for 3 to 4 minutes.
Flip with spatula and grill for 3 to 4 more minutes. If not completely cooked through to your liking, move the patties to a cooler area of the grill and cook an additional 3 to 5 minutes.
If unsure of the doneness, insert an instant-read thermometer into the center of a burger; it should reach 160 degrees F.