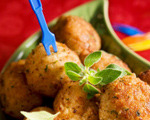 Prep: 15 min
Cook Time: 20 min
Total: 35 min
Serving: 4 Servings
Enjoy these turkey meatballs on their own or add them to soups, salads, subs or even sauces to make heartier and more filling meals.
Ingredients
1 pound ground turkey
1/2 cup breadcrumbs
1/3 cup milk
1 egg, beaten
Sea salt and freshly ground pepper
2 tablespoons olive oil
Directions
Place the breadcrumbs and the milk in a bowl and gently stir until all of the milk has been absorbed by the bread. Add the ground turkey, beaten egg and a few pinches of salt and pepper to the bowl and then mix well with clean hands until thoroughly combined.
Lightly wet you hands and then shape the mixture into small balls.
Place the olive oil in a large sauté pan over medium heat. Once the oil begins to shimmer, add the meatballs and cook for about 20 minutes until browned on all sides. Serve immediately.