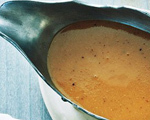 Prep: 10 min
Cook Time: 1 hr 20 min
Total: 1 hr 30 min
Serving: Makes about 3 cups
If you have ever wondered what to do with turkey giblets, here is your answer; you can make a rich and delicious stock using the heart, gizzard and neck.
Ingredients
Giblets (heart and gizzard) and neck reserved from turkey (discard liver, do not use)
4 tablespoons salted butter
1 onion, chopped
1 celery stalk with leaves, roughly chopped
1 small leek, trimmed, washed well, chopped
1/2 teaspoon salt
1/4 teaspoon freshly ground black pepper
1 bay leaf
Directions
Rinse the giblets off with cold water and then pat dry with a paper towel.
Place the butter into a large sauté pan over medium heat, and then add the onion, celery and leek once the butter becomes hot. Sauté the mixture for 12 minutes and then sprinkle with a few pinches of salt and pepper, then continue to cook for 5 minutes more.
Pour 4 cups of water into the pan and stir in the bay leaf, giblets and neck. Bring the mixture to a boil and then reduce the heat to medium.
Simmer the mixture for 1 hour, then carefully strain and place in a tightly-lidded glass jar in the refrigerator until ready to use.